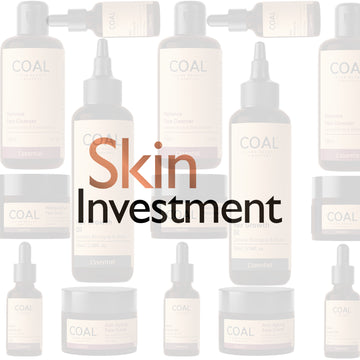 We may just have the answer
Have Questions?
CONCEPT & PRODUCTS
What is clean beauty?
Clean beauty is a term synonymous with non-toxic beauty. It is used to describe skincare products that are free from harmful chemicals. This includes ingredients like parabens, phthalates, sulphates, talc, silica, refined petroleum, hydroquinone and synthetic fragrances
Why are clean beauty products important?
Clean beauty products are safe, plant-derived, cruelty-free, eco-friendly and sustainably sourced
Are your products only women-centric? Can men use COAL products?
While women can splurge on the range of products we have to offer, there is a complete range for men too. In fact, we have many male customers benefiting from our products
Which skin types are your products best suited for?
Our products have been formulated to support your skin through all its stages in life. Whether your skin falls under sensitive, blemish-prone, acne-prone, combination, dry, or you are lucky enough to have great skin, we have something for you
Do your products work for acne?
Absolutely. We have products specifically formulated for skin that is prone to acne and blemishes. Salicylic acid is a beta hydroxy acid. It is well-known for reducing acne by exfoliating the skin and keeping pores clear
At what age do I start using anti-ageing skincare?
When it comes to anti-ageing products, the general rule is to start in your early 20s. Taking preventative steps in your 20s will keep your skin looking younger in the long run
Can anti-grey products reverse greying?
Greying is caused by genetics; you cannot reverse it. Dietary or lifestyle habits, when monitored timely, can slow down premature greying. Anti-grey products formulated using ingredients like darkenyl can naturally protect hair follicles from getting oxidised by effectively increasing melanin production
Are your facial serums gentle enough to use around eyes?
Yes, all our facial serums are gentle enough to use around the eyes, but please avoid direct eye contact. If a product enters your eyes, flush eyes with water immediately
Do you use artificial fragrance?
No. We do not believe there is a place or need for artificial fragrance in skincare.  Not only do artificial fragrances have no direct benefit to the skin, they can cause harm and hide toxic ingredients. Many of our natural ingredients have an inherent scent to them, as nature intended
How long before I start to see results?
Results can vary from individual to individual and on what products you are using. How consistent you are with your skincare routine plays an important role in the success of your results. At COAL, we love to under-promise and over-deliver, thus we give a baseline of 3 to 6 months for the skin to go from worse to best. Results may be seen sooner than this baseline
Do skincare products expire?
Skincare products do not last forever. Once opened, these products have a limited shelf life. The exposure to air and bacteria over time can break them down. If used past the expiration date, generally 24 months or 36 months, the product may not be effective or could cause an adverse reaction. Check the expiry date before making the purchase
How do I get more information about a product?
Our product pages provide all possible details like ingredients, quantity, benefits, process to use a product, expiry date and other necessary information. If you need more details, please don't hesitate to reach out to our customer support team at customercare@coalcleanbeauty.com
How should I store my products?
COAL products should be stored in a cool, dark place and away from humidity
SHOPPING
Where else can I buy the products?
COAL products are available at all leading e-commerce marketplaces like Amazon, Flipkart, Myntra, Tata1mg, Netmeds, Jiomart, Snapdeal, Tata Cliq, Femica, Vanity Wagon, PopClub to name a few
How to avail discounts and promotions?
To stay up-to-date on the latest promotions and receive exclusive access to any of our sales and discounts, please write to us at reachus@coalcleanbeauty.com to join our email or on + 91 9311758787 to join our SMS list
What forms of payment are accepted?
We accept all forms of payment via Debit Card, Credit Card and NetBanking. You can pay via Mastercard, Visa, Amex, PayTm, COD and UPI
Are my card details safe?
Yes, absolutely. All information is securely encrypted on servers. COAL never sees or has access to your private financial information
SHIPPING & RETURNS
What are your shipping charges?
We offer free shipping on all orders above Rs 499. For orders below Rs 499, a shipping fee of Rs 120 is levied. For more information, refer to our Shipping Policy
Within how many days can I receive my products?
Once the order is successfully placed, it takes 3 to 5 working days for the products to reach your destination
Do you ship internationally?
Shipping to international markets is on our priority list. We will soon start shipping to following countries: Singapore, Dubai, Canada, US and Saudi Arabia. Kindly follow us on Instagram, Facebook and LinkedIn, as well as sign up to our mailing list to know when we expand our offerings to these countries. Also, for more information, refer to our Shipping Policy
Do you accept returns?
We do not accept returns. We do encourage you to take advantage of our travel products (available in 15ml and 15g sizes) for patch testing and to know overall compatibility. For more information, refer to our Return Policy